• The client



Kudla Group is a subsidiary of the international real estate group Inteco, of Russian origin, with headquarters in Tetouan, Morocco.

Kudla's activity focuses on the development of large residential resorts, including hotels and golf courses as well as other other services, mostly along the Mediterranean coast of Morocco.
• Activ Marketing position
 
Activ Marketing Consultants has been selected by Kudla Group to develop websites and support the online marketing activities of the projects of the moroccan groupm as well as carrying out other offline activities such as product and corporate brochure or billboard design.


• The works


Given the great potential of the group and the scale of their projects, AMC recommended to Kudla Group the design of a corporate website to show the whole characteristics of the group and its portfolio of projects plus a special website for each one of the great resorts that were being built.

The first of these projects is the flagship complex, Golf Paradise Resort, located next to Tetuan, a project of more than 1,000 luxury homes, from villas to apartments, plus a large 5-star hotel and a golf course in the urbanization.

In addition to these two websites, AMC has developed a CRM pogramme as a way of managing and following up the leads and clients interested in the purchase of a villa or apartment.
A communication plan will complete the online activity of the first year of collaboration AMC - Kudla.
• The website of Group Kudla


The corporate website of the Kudla Group shows the solidity of this newcomer in Morocco, which can count on the financial strength provided by the Head company Inteco, one of the biggest international real estate groups.

This is an outstanding corporate website, which also offers commercial information on the projects, from Golf Paradise Resort, the first to be marketed, to projects such a future entertainment park. 

Visit it at: www.grupokudla.com
 
• The website of Golf Paradise Resort
This site aims at showing the visitor the unique environment of Golf Paradise Resort.

With lifestyle situations, combined with images of Morocco, it stresses the luminosity and the luxury of the resort, as well as its fantastic offer of facilities.
The section describing the area of Morocco will also be much appreciated by the visitors.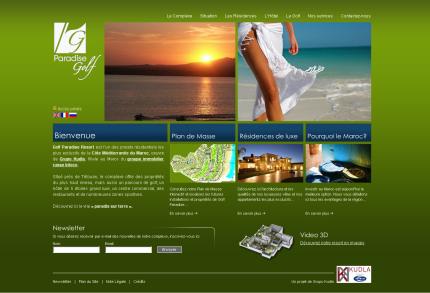 Visit it in http://www.golfparadiseresort.com